Over the last decade the director of the Museo Vincenzo Vela has drawn up a number of fundamental points on which the museum's cultural offer is based. She has been guided in this by the fact that this institution - unique of its kind and abounding in artistic wealth - was created by the generous bequest of an artist to his country and community. Although it is isolated from the major tourist circuits, the Museo Vincenzo Vela is set in a region that over the centuries has experienced the constant emigration of its artistic talents and a plethora of cultural exchange with the Italian peninsula and the rest of Europe. For this reason, today its objective is to consolidate its role as a cultural space which, in addition to conserving and exhibiting its own artistic heritage, acts as a platform for the enrichment of the community at large. This is one way to draw near to the project that was dear to Vincenzo Vela's: that of creating an art school in his home, a place to train and benefit the young generations.
The museum therefore focuses on establishing a dialogue with schools, families, adolescents, tourists and visitors of all capabilities, as well as scholars and anyone interested in art, strong in the knowledge that it has a quality product to offer all those who come to discover its riches.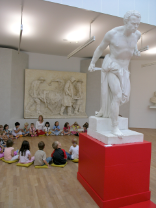 The Education Service, one of the most innovative in Ticino, proposes a number of ways to approach the collections and museum's temporary exhibitions. It works in partnership with special institutions in the canton and with Pro Helvetia in the conception and realization of special projects. Performances of music, both classical and experimental, are regularly offered in the evocative hemicycle as part of the "Sonority" programmes; readings of poetry, fables and short stories are also presented, suggestive of the intimate nature that the artist's private home used to enjoy.
Furthermore, opportunities for research are made possible by the opportunity offered to scholars to stay for brief periods in the delightful guesthouse at the entrance to the park (once the gatekeeper's cottage), and by the existence of archive materials and a well-stocked library.
Round tables, conventions and study days are also organised.
Further information
Contacts
Contact
Museo Vincenzo Vela
 
Largo Vela
6853 Ligornetto TI-Svizzera
Informazioni  
+41 (0)91 640 70 44/40
Direzione  
+41 (0)91 640 70 40
+41 (0)91 647 32 41
museo.vela@bak.admin.ch