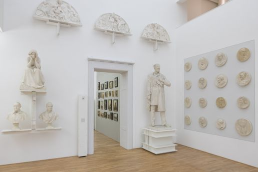 The museum's principal collection is the extensive ensemble of plaster models of almost all the sculptural works produced by Vincenzo Vela. Together they form one of the most important collections of plaster models in Europe. Compared to other examples, whose collections of plaster casts were taken from sculptural works already made in stone, the set of Vela plasters are - with very few exceptions - original models, and thus preceded the final sculptures, which were made in either stone or bronze. They are therefore autograph and consequently of inestimable value.
In fitting out a private museum, the forty-seven year-old Vincenzo Vela, who was then at the apex of his career and international fame (it was around the middle of the century that he was unquestionably the best known and highly appreciated sculptor in the Italian-speaking world), wished to bring together his works in his villa and leave them all as a legacy to future generations. The museum he created was referred to admiringly as a "pantheon" by visitors of the period.
Accompanying Vincenzo Vela's models are the plaster and terracotta works of his elder brother Lorenzo, a skilful animalier and decorator, including the six allegorical lunettes that he conceived for the "Cà de' Sass" (the Milanese bank Cassa di Risparmio).
Contact
Museo Vincenzo Vela
Casella Postale 8
Largo Vincenzo Vela
6853 Ligornetto
Phone +41 58 481 30 44
Fax +41 58 481 30 43