Sculptor (* 3.5.1820 Ligornetto/TI † 3.10.1891 Ligornetto/TI)
The son of Giuseppe Vela and Teresa Casanova, while still a child he was apprenticed to a stonemason. Around 1834 he joined his brother Lorenzo, a sculptor of decorations, in Milan, where he continued his apprenticeship as a stonemason working on the Cathedral. Having enrolled at the Brera Academy in 1835 he immediately attracted attention at the competitions for the various disciplines. He completed his training as a sculptor in the studio of Benedetto Cacciatori (1793-1871).
In 1842 he won the Venice Academy competition, where he showed a remarkable independence from the classical dictates that governed the academic teaching of sculpture. After finishing his studies in 1844, he began to receive public and private commissions. The statue of «Bishop Luvini» (1844) and «Morning Prayers» (1846) caused a stir, on account of their strict adherence to reality. They were widely acclaimed by the public and by progressive critics.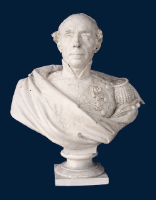 In November 1847 he joined up as a volunteer for the Sonderbund war, during which he met general Henry Dufour, whose portrait he did some years later (1849). Later, he also fought in the campaign against Austria in Lombardy, participating in the Como revolt (1848). Back in Milan after that defeat, he returned to portrait-painting and tombstone sculpture for the aristocracy. In 1851 the exhibition of «Spartaco» at the Brera established his name as leader of the naturalist school and spokesman for Risorgimento ideals in sculpture. The following year he was forced to leave Milan. He settled in Turin, where he was able to count on the support of liberal circles.
From 1856 he was professor of sculpture at the Albertina Academy. In Turin his career prospered and was spelt out by major public commissions and by his participation in national and international exhibitions.
In Turin he ran no less than three studios, one of which is described in a watercolor by Tetar Elven (1831-1908), held in the collection. After his triumph at the International Expo in Paris in 1867 with «The Last Moments of Napoleon I», which was bought by the Emperor Napoleon III, the sculptor retired to his villa at Ligornetto.
The 1880s marked a further evolution in his style, and renewed successes with his «Victims of Work» (1882-83), the monuments to Agostino Bertani (1887) and to general Giuseppe Garibaldi (1889).
After the artist's death, his son Spartaco fulfilled his wishes by bequeathing to the Swiss Confederation the villa at Ligornetto and all his father's works.
Contact
Museo Vincenzo Vela
Casella Postale 8
Largo Vincenzo Vela
6853 Ligornetto
Phone +41 58 481 30 44
Fax +41 58 481 30 43