Both Lorenzo and Vincenzo Vela were appreciative of a form of genre painting that centred on the romantic depiction of affections, with a narrative expressed on a personal level and dignified by a literary origin. It was a genre that ended by influencing the iconography of Spartaco, the painter in the family.
One of the many military artists in the real and imagined battles of the Risorgimento, the youngest artist in the Induno family produced many images of the military campaigns, in which he often participated in person. This is the realistically described face of a Bersagliere set against a bare landscape. The painting belonged to Lorenzo Vela.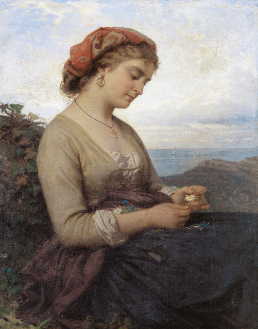 Another from Lorenzo Vela's collection. The delicately sentimental subject was replicated by the artist several times, who here demonstrates his ability in a composition of winning harmony.
The painting belonged to Lorenzo Vela and is important as much for its "modern" literary subject - after the highly successful novel written by Alexandre Dumas fils (1824-95) - as for its refined pictorial quality.
This painting bought by Vincenzo Vela at an art promotion exhibition in Turin is one of the few not by a member of the Piedmontese or Lombard schools. The artist of this polished, engaging and elegant work was in fact Neapolitan.